List of Contents
◇ A Word from the Dean  | ◇ Education ◦Course Features ◦ Fields and Areas of Study | ◇ Collaborating Institutions | ◇ Instructors
A Word from the Dean
"Learn how to create what people and society need from your individual wellspring of inspiration and wisdom, and change the world."
We opened the first women-only Faculty of Engineering in Japan at Nara Women's University, which has a long history as a higher education institution for women in the ancient capital of Nara.

In modern times, it has been said that we are living in the information society for a long time, and AI is in the process of transforming society. However, computers such as AI can only interpret knowledge, technology, and things as data, so do not have the ability to create new things or new ways of thinking. In the future era, people will create things and will use computers to make them a reality.

So where does human creativity come from? In my field of art, it is said that creative discovery arises from interaction between the unconscious and the body. That's why our Faculty of Engineering uses mind and body, and uses our own sensibilities and experiences to develop learning while working through cycles of creation and knowledge, with the goal of developing people who will lead creative and self-directed lives.

Another feature of the information society is that AI and other software have begun to be deeply involved in engineering. Engineering based on strength that was dominant up to the 20th century has changed into engineering based on knowledge, which requires a balance of knowledge – and it has become a problem that the number of female engineers has been alarmingly low.

To correct this imbalance and change the world, and to foster female engineers, we base the curriculum on liberal arts education that considers the need for people and society, STEAM education that teaches creativity, science and technology, and PBL exercises that foster students' ability to interact with diverse people. The specializations in the fields of human information and environmental design can be freely chosen after enrollment to allow students to pursue studies and career development suited to them.

Take advantage of our environment as a women's university where there is no need to hold back because of the restrictive gender bias – acquire your own expertise, and flourish in society as an engineer and innovator pioneering the future.
FUJITA Meiji, PhD
Dean of the Faculty of Engineering
Education
Teaching and Learning in the Faculty of Engineering
Design your own personalized study plan to aquire expertise based on a wide range of educational options
We develop the creative engineers society needs through interdisciplinary and individualized learning system that foester individual initiative in each students.
You can create your own career by freely choosing subjects across disciplines and grades.
Course Features
Creative Learning
Learn creatively through the exciting cycle of "learning and making".
Experience cycles of "new knowledge and creation" centered around PBL exercises (*), and feel the excitement that comes from learning-by-doing. Enjoy the emerging of the creativity from "intuitive realization and critical thinking". Through "cross-cutting, hands-on" learning system, encounter various people and things, knowledge and technology, and develop your interpersonal and social strength. Acquire these capabilities and challenge yourself to become an innovator who will create the future.
Interdisciplinary and Individualized Learning
Creative, practical and cross-cutting. Create your own expertise with the flexible learning system.
Students can make their own decisions about the subjects and year they want to take. Of course, our advisors will help you, and there are study models for developing expertise in Biomedical Engineering, Informatics, Human Environmental Science, and Materials Engineering. However, by freely combining subjects, you can develop your own expertise and develop diversity so that you can play an active role in the uncertain world that lies ahead. To this end, there are also classes that will help you understand your personality and plan your career accordingly.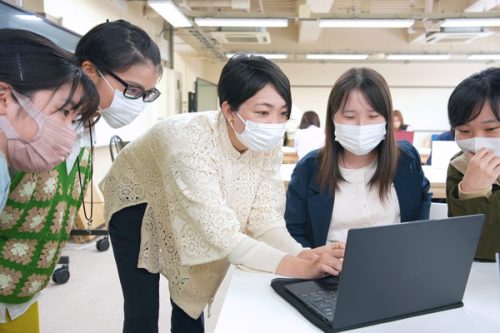 Personalized Learning
Empower your personality and create your own future with small classes of 45 students a whole academic year.
We offer small group education with about 3 students per teacher in each academic year, which enables us to provide personalised and interactive teaching. Based on a portfolio that evaluates expertise and non-technical abilities such as creativity, problem solving, communication skills, and collaboration skills that are important in modern society, the faculty member in charge will provide coaching to develop individual initiative while respecting the will of students.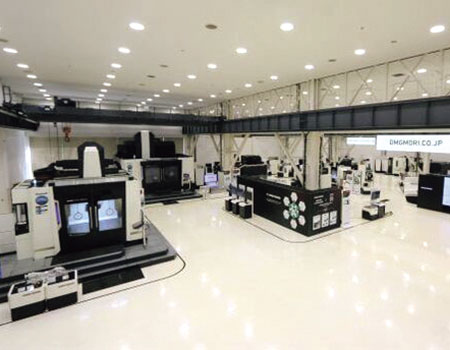 Learning in Professional Work Environment
Learn cutting-edge technologies and issues in collaborative lectures with companies and laboratories.
In order to support diversified learning, we have established a cooperative system with organizations such as: the Nara Institute of Science and Technology, which conducts real-world production exercises and cutting-edge research at local companies' laboratories; the Nara National Research Institute for Cultural Properties that offers cultural property engineering; the Nara National Museum, which is strong in arts, crafts, and conservation sciences; and Nara College, National Institute of Technology, which has a wide range of engineering fields, to conduct a variety of more specialized lectures and exercises.
Fields of Study
There are two study fields and four areas you can study at the faculty of engineering.
Field of
Biomedical Engineering and Technologies
In the field of Biomedical Engineering and Technologies which focuses on human information, there are subjects related to Biomedical Engineering and Informatics.
Biomedical Engineering
Biomedical engineering is a discipline that combines the fields of medicine and engineering. You will learn about human functions such as physiology and cognitive science that will allow you to apply biological mechanisms to manufacturing, and you will also learn about measurement techniques and data analysis that will allow you to apply engineering knowledge to medicine. By systematically acquiring the basic knowledge of biological functions and measurement technology, actual equipment operation skills, analysis methods, and suggestions for application methods, you will acquire the technical skills to contribute to the future issues of the aging society with declining birthrate, medical care, and welfare, and the ability to create new products that will be required in daily life.
Informatics
In order to analyze and control various objects in the real world, you must learn about the hardware that is used to create data collection devices yourself, and acquire the information skills to process and analyze the collected data. In the field of information, we provide education and research on various technologies (programming, data analysis, human interface, etc.) for handling information and humans, various technologies (sensors, IoT devices, etc.) for handling things (electronic devices), and applied technologies such as life support. By providing four years of education and research, we aim to produce graduates who can develop new systems that can help to deliver safe, secure, and happy lives for people.
Field of Environmental Design
The central theme of the field of environmental design is the external human environments. In this field, we offer subjects related to the human environmental science and material engineering.
Environmental Design and Art
The field of Human Environmental Science is about learning how to improve the environment around us to make it richer and more comfortable. You will learn how to design environments from architects and environmental/information engineers who are the designers of living/social environments, and will learn how to think about and express the relationships between people and the environment from academics and writers involved in art and culture. Building on this foundation, we provide designers and engineers with the education they need to solve the challenges of modern society by instructing them in fields such as chemicals, materials, and ICT technology. In order to work in environmental design, there is no end to the amount of knowledge and skill that are necessary, so the goal is for students to continue to acquire specialized knowledge and skills according to their respective interests after graduation, and to become engineers that do innovative work in various fields.
Materials Engineering
In the field of materials engineering, we study the materials that form the basis of industrial products at the molecular level. For example, in order to create next-generation intelligent textiles with unprecedented characteristics, we are developing applications for wearable systems that offer safe and pleasant wearing comfort, and that can provide high-precision measurements and body information, based on precision high-order structural analysis of polymers and measurements of the texture of woven fabrics. We are also working on the "design and synthesis of molecules that can clearly identify various metal ions," and are taking on the challenge of developing fluorescent sensor molecules that can specifically identify zinc ions, which are very important metals for living organisms, and cadmium ions and mercury ions, which are highly toxic heavy metals present in the environment. In addition, we are using the wisdom of materials chemistry to create a variety of functional organic materials from small molecules to polymers. In particular, we are designing and synthesizing gel materials that offer great potential as supple and soft materials, and proposing them as "soft materials" that have a range of uses.
Collaboration Institutions
Information in Preparation
Instructors
| Name | Title | Research Areas | More Info |
| --- | --- | --- | --- |
| KUBO Hiroko | Professor | Ergonomics, House Environmental Engineering | Researchers Directory |
| KUROSU Hiromichi | Professor | Macromolecular Structure, Solid-state Nuclear Magnetic Resonance | Researchers Directory |
| KOMAYA Shoichi | Professor | Human Educational Technology, Software Engineering | Researchers Directory |
| SAIWAKI Naoki | Professor | Human Interface, Human Informatics, Music Information Processing | Researchers Directory |
| SHIBASAKI Manabu | Professor | Physiology, Kinematics | Researchers Directory / Laboratory Website |
| NAKATA Hiroki | Professor | Cognitive Neuroscience | Researchers Directory / Laboratory Website |
| NAGATA Naoyuki | Professor | Social Infrastructure, Architectural History and Design | Researchers Directory |
| NAGATANI Tamaki | Professor | Art Education and Curricula, Fine Art Practices (Sculpture/Modeling) | Researchers Directory |
| FUJITA Meiji | Professor | Architecture and Art Studies, History of Architecture and Urban Planning, Heritage Conservation and Restoration | Researchers Directory |
| MIKATA Yuji | Professor | Nanotechnology, Bioinorganic Chemistry, Bioorganic Chemistry | Researchers Directory / Laboratory Website |
| YOSHIDA Tetsuya | Professor | Machine Learning, Data Science | Researchers Directory |
| OHSEDO Yutaka | Associate Professor | Organic Functional Materials, Polymer Materials, Functional Fiber | Researchers Directory |
| SATO Katsunari | Associate Professor | System Informatics, Haptic Informatics | Researchers Directory / Laboratory Website |
| YAMAMOTO Kentaro | Associate Professor | Inorganic Materials Chemistry, Electrochemistry | Researchers Directory / Laboratory Website |
| ANZAI Emi | Lecturer | Human Informatics, Welfare Engineering | Researchers Directory |
| OHTAKA Chiaki | Lecturer | Biomechanics | Researchers Directory / Laboratory Website |
| SHOJI Sunao | Assistant Professor | Organic Chemistry, Supramolecular Chemistry | Researchers Directory / Laboratory Website |
| KAWAGUCHI Shinji | Project Associate Professor | Calculus, Linear Algebra, Probability, Statistics | |